On any average day in the past collegiate year, 9 million students were enrolled in college with a full-time schedule and:
1,326 experienced their first use of an illicit drug
703,759 regularly used marijuana
On any average day in this past collegiate year, 2 million students were enrolled in college with a part-time schedule and:
174 experienced their first use of an illicit drug
195,020 regularly used marijuana
Illicit Drug Use Among Persons Aged 18 to 25 by State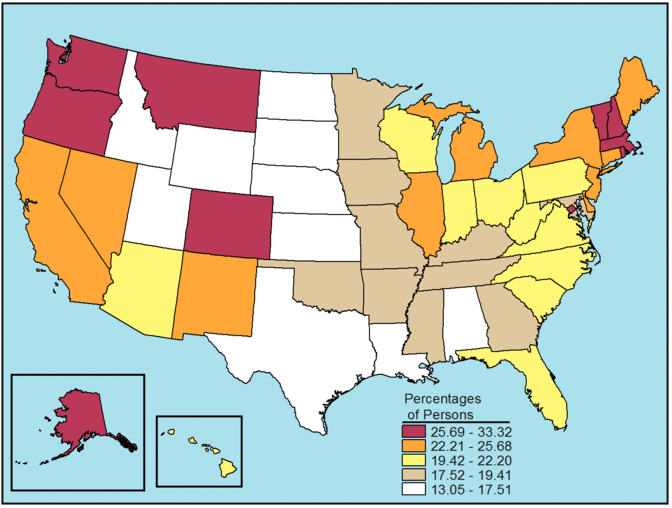 This map illustrates the percentage of people in each state who used illicit drugs in the previous 30 days and who are also between the ages of 18 and 25, or college-age. These percentages are averages based on the 2011 and 2012 National Survey of Drug Use and Health.
The states have been divided into five categories based on the proportion of their percentages and have been listed in alphabetical order within their respective category here:
Red
(25.69% – 33.32%)
Orange
(22.22% – 25.68%)
Yellow
(19.42% – 22.21%)
Tan
(17.52% – 19.41%)
White
(13.05% – 17.51%)
Colorado
California
Arizona
Arkansas
Alabama
District of Columbia
Connecticut
Florida
Georgia
Idaho
Massachusetts
Delaware
Hawaii
Iowa
Kansas
Montana
Illinois
Indiana
Kentucky
Louisiana
New Hampshire
Maine
North Carolina
Maryland
Nebraska
Oregon
Michigan
Ohio
Minnesota
North Dakota
Rhode Island
Nevada
Pennsylvania
Mississippi
South Dakota
Vermont
New Jersey
South Carolina
Missouri
Texas
Washington
New Mexico
Virginia
Oklahoma
Utah
West Virginia
Tennessee
Wyoming
Wisconsin
Previous surveys and studies have pointed out the alarming rates of substance abuse by college students and others in the same age group. However, more surveys have been turning their attention to unfavorable ramifications, unintended consequences, and curiosity regarding intervention to heal addictions.
In a survey of college students, 262 indicated their experience of illicit substance use throughout their lifetime. At least one unexpected academic complication in the span of their lifetime was the result of drug or Alcohol consumption in 69 percent of those surveyed.
Some of these complications include missing one or more classes, low test scores, and decreasing grades. In 63 percent, an academic consequence was experienced within the previous year.
At the time of this survey, 28 percent expressed a level of concern for their substance abuse with 76 percent interested in a strategy for halting their use of substances.
About half of the number of college students who drink Alcohol add additional risk and increase adverse effects by often binge drinking. It's no surprise that students are interested in ways to exit this lifestyle.
Top 3 Drugs Abused by College Students
Marijuana has been touted as a medical miracle by many patients suffering from seizures and other illnesses. While there may be a place for its use in the medical field, there is certainly no place for it on a college campus.
Adolescents and young adults who use marijuana can experience significant consequences. The brain is not fully developed until 25 years of age and marijuana consumption alters the trajectory of its growth, which could lead to sustained difficulties in life with memory and day-to-day activities.
Survey data analyzed by the National Institute on Drug Abuse (NIDA) revealed that college students are much more likely to use marijuana than their non-enrolled counterparts, even if they had never used it before.
Students most commonly use prescription stimulants, or amphetamines to increase attentiveness, energy, and concentration in pursuit of higher academic achievements. They are also commonly used at parties as consumption temporarily creates a rush of euphoria and elevates mood.
Adderall and Ritalin are typical stimulants prescribed by doctors to treat narcolepsy and attention deficit hyperactivity disorder. When taken without proper medical supervision, it can have side effects such as psychosis, heart attack, and seizures. Addiction is a substantial concern with the use of amphetamines as well.
MDMA is also known as Ecstasy and is becoming increasingly known as Molly—its powdered form. The number of students who try it for the first time in college continues to rise.
When consumed, one feels euphoric, energetic and carefree. An affinity is felt for those around the person, which makes it a popular drug to use in social situations such as parties, raves and concerts.
After a short period of MDMA usage, it becomes easy to lose sight of goals and dreams that inspired the individual to seek a higher education. The drug is expensive to obtain and it's impossible to confirm the quality of each batch. A known practice by dealers is to mix MDMA with cheaper drugs, such as Methamphetamine, to increase profit margins.
Why is Drug Use Prevalent in College Environments?
CASA Columbia, a countrywide nonprofit organization whose purpose is to gain a better understanding of alcoholism and drug abuse, surveyed 2,000 college students about what prompts them to use drugs and Alcohol at school.
This survey revealed that drug use represents a relief from the pressures of college life for many students. Stress relief and better academic performance was represented as motivators for drug use along with the desire to fit in with the college crowd.
Women indicated that they relied on the substances to "loosen up" and felt pressure to "keep up with the guys." The risks associated with this mindset are dangerous as it promotes overdose and can often render one unable to properly defend herself in the event of an assault.
While drug use is prominent in college life, all hope is not lost. Substance abuse treatment is available to heal the mind and body of addiction and instills healthy habits for addressing the pressures a college student could face.
Often, students find that they have a co-occurring disorder that needs treatment, which helps to alleviate the desire for the drug. Life skills and an aftercare plan learned in treatment can help the student avoid triggers and strengthens a successful long-term recovery.
If you or a young adult you care about is struggling with drug use, help is available. Give us a call today and take the first step toward healing.