Some Americans use Marijuana medicinally while others use it recreationally; some believe it's dangerous and others think of it as a miracle treatment for many physiological and psychological disorders. The American outlook on Marijuana widely varies with opinions across the spectrum.
As states across the country—such as Colorado, California, Hawaii, New York, and Massachusetts—have legalized the recreational use of Marijuana concerns are rising about its growing assimilation into American culture that increases the risk of addiction and permanent effects on the brain in young adults and adolescents.
Cannabis Use in the U.S: Top 10 States
Based on information obtained from the Substance Abuse and Mental Health Services Administration the following states use Cannabis the most. Use in the previous month and year of the survey, total number of users, and population are taken into consideration:
Colorado: 21.6%
Oregon: 19.9%
Vermont: 19.8%
Alaska: 19.5%
Washington: 19.5%
Maine: 19.4%
Rhode Island: 18.7%
Massachusetts: 17.6%
New Hampshire: 17.1%
New Mexico: 15.6%
In all states, the age category with the highest rate of usage was 18-25, which is of particular concern as Marijuana use disrupts natural brain development, which is active until approximately age 25.
American Adults Use Marijuana Now More Than Ever
In 2012, 7.6 million people, over the age of 11 in the United States, used Marijuana at least 20 days in the previous month of the survey, which was an increase from 5.1 million in 2007.
In 2012, 40.3 percent of those who used Marijuana in the past month reported using it almost daily.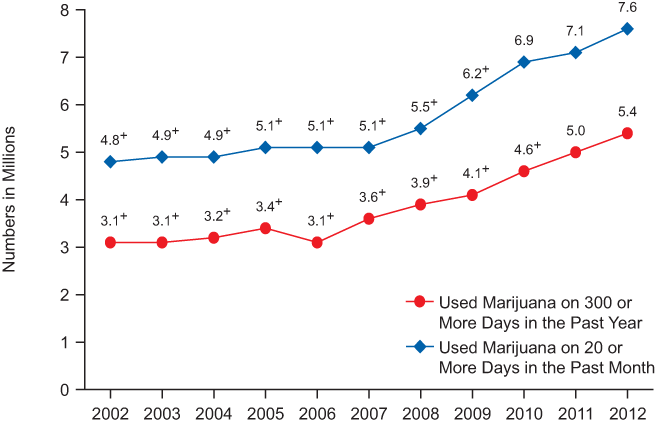 A Gallup Poll done in 2016 revealed that 13 percent of adult Americans reported smoking Marijuana regularly, which is almost doubled of 2013.
These surveys refer to heavy use; however, many drug abuse surveys address regular use, which is most often considered to be at least one user in the previous 30 days of participating in the survey.
In 2016, the National Survey on Drug Use and Health remarked on regular Cannabis use in the United States. They found that 7.2 percent of adults over the age of 25 regularly used Marijuana—the highest percentage since 2002.
Young Adult Marijuana Use in America
The 2016 Monitoring the Future College Students and Young Adults Survey revealed that the marijuana use among college-aged individuals is higher than it has been in almost four decades.
About 5 percent of college students and about 13 percent of those in this age group, who are not college students—roughly translating to 1 in 5 young adults reported that they use Marijuana every day with 6.5 percent of adolescents reporting regular monthly usage.
Adolescent Attitudes Toward Using Marijuana in America
With Marijuana at the forefront of American discussions, adolescents often have an incorrect idea about how safe its usage is for those in their age group. While many argue that Marijuana has a place in the medical field, there are research-based concerns about any person under the age of 25 using it.
A dangerous percentage of teens (71 percent) do not feel that Marijuana is harmful to adolescents, even when used regularly. In fact, 5.9 percent of American high school seniors used Marijuana regularly in 2017.
Today's teens are going through their adolescence when more state laws are changing to open access and allow recreational marijuana usage every year. These days, Marijuana is often as prevalent in entertainment as alcohol. Parents often compare Marijuana to other illicit drugs and feel that they're "lucky" their teen wasn't using a "worse" substance.
These circumstances could explain why teens dismiss concerns about Marijuana's harmful effects to the developing brain. Teens who use it are up to seven times more likely to experience a problem with Marijuana use than those over the age of 25.
Dangers of Marijuana Use in the U.S. for Individuals Under 26
Every American is at risk for addiction when using Marijuana regularly over a period of time. Americans under the age of 26 are also at risk for Cannabis-related damage to the developing brain. Regardless of the variety of Marijuana laws across the country, using Marijuana in the U.S. is illegal until the age of 21.
Studies indicate that Marijuana use disturbs the natural curve of development during brain growth. These disruptions affect the brain's efficiency as well as important progress necessary for optimal functioning.
Claudia Wallis of Scientific American wrote,
"For one thing, recent studies show that cannabinoids manufactured by our own nerve cells play a crucial role in wiring the brain, both prenatally and during adolescence. Throughout life they regulate appetite, sleep, emotion, memory and movement – which makes sense when you consider the effects of Marijuana."
Often, when individuals in this age group use this substance they experience marked difficulties with problem-solving, concentration, coordination, time perception, and memory. Americans who use Marijuana at these young ages often notice the negative effects of Marijuana in falling grades, disruption in relationships, and impaired judgment.
When Is Treatment Considered For Marijuana Use in America?
Information collected in a recent survey shows that 30 percent of Americans who use Marijuana could develop a disorder related to the rate of its usage. Marijuana dependence has been known to develop into an addiction for about 9 percent of Marijuana users in the country.
If an individual has developed a Marijuana dependency, he or she will experience symptoms of withdrawal when not using the substance. These withdrawals frequently include insomnia, irritability, restlessness, and changes in appetite for up to two weeks.
In the U.S., using Marijuana excessively for a period of time may facilitate an addiction, which is symptomized by the inability of the individual to stop taking the drug voluntarily, despite the negative effects it is causing in many aspects of his or her life.
If you suspect that you or someone you care about is experiencing a dependency or an addiction to Marijuana, give us a call today and we'll help you consider your options.